About Smolensk region
Smolensk region is located between Moscow and Europe and borders with the Mogilev and Vitebsk regions of Belarus.
Within a radius of 500 km from Smolensk region reside 67.9 million people.
The main economic advantages of Smolensk regions are:
the unique geographical location (on the way from Russia to Europe. 35% of all Russian cargoes passes through the region and 75% of cargoes arriving from Western Europe to Russia in the same way),
developed transport infrastructure,
superfluity of electrical energy,
effective state programs of business support.
The goal of the Export Support Center is to provide Smolensk small and middle companies consulting and service support in selling their goods and services to companies from near and far abroad by providing free consultative, intermediary services, financing marketing research, participation of Smolensk exporters in exhibitions, educational and business events in Russia and abroad.
Smolensk region. The land from Export Support Center on Vimeo.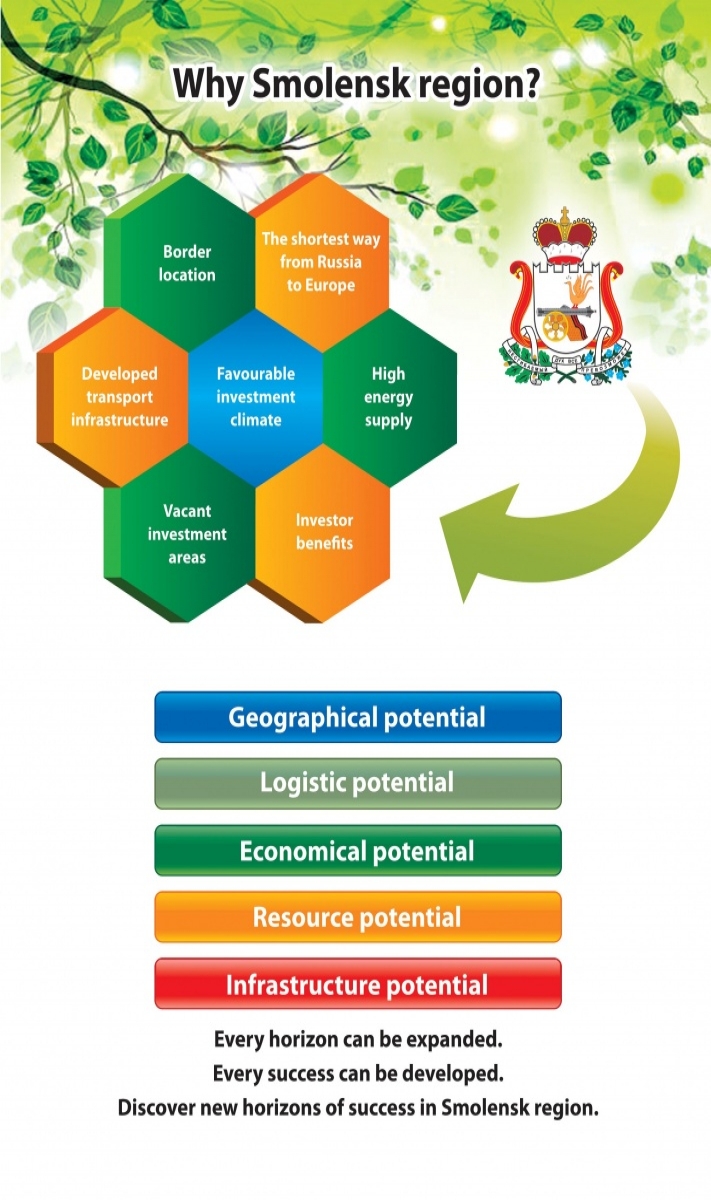 There are 2 state industrial parks in Smolensk Region: "Phoenix" and "Safonovo".
These are the perfect places to localize your business in the key-region of Russia!
News
01.11.2017
The collective stand of Smolensk producers, organized by the Smolensk Region Export Support Center, began its work at the 20th Central Asian International Exhibition WorldFood Kazakhstan in the Atakent Exhibition Complex in Almaty.
23.10.2017
Export Support Center of Smolensk Region organize the collective stand of smolensk food producers at the Central Asian International Exhibition WorldFood Kazakhstan 2017 in Almaty at the Atakent Exhibition Center.
24.07.2017
Export Support Center of Smolensk Region organized the participation of Smolensk enterprises in the International Aviation and Space Salon MAKS-2017, in the city of Zhukovsky (Moscow Region).